The Hybridization of Food Spaces Changing Spatial Logics in Urban Food Systems and Prospects for Sustainable Diets
##plugins.themes.bootstrap3.article.main##
##plugins.themes.bootstrap3.article.sidebar##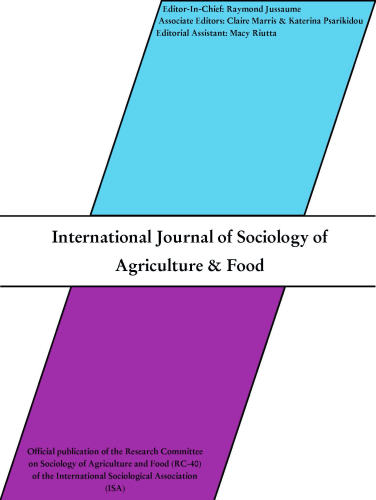 Published Jun 28, 2021
Kata Fodor
Abstract
On the consumption end of the food supply chain, cities have leverage to spatially facilitate sustainable food system transformations and accommodate sustainable diets. However, developing the appropriate architecture implied in such a feat, i.e., creating the adequate spatial conditions for sustainable urban food practices, is first predicated on understanding the existing spatial logics operating at the core of contemporary urban food practices and food spaces. This paper aims to contribute to this understanding, by identifying and conceptualising some of these changing spatial logics. Through a series of observations across four domains - cyberspace, retail spaces, the domestic realm and compound food spaces – the study finds that several 21st-century constructs, such as online food purchasing, the connected kitchen or the diversified supermarket, exhibit entirely novel spatial logics in organising urban food practices and the physical reality around them. As a key finding of the analyses, this paper introduces the term 'hybridization of food spaces', linking two overarching patterns identified: how 21st-century urban food space typologies increasingly show signs of functional diversification in their physical layouts, as well as ways of merging with virtual platforms. Finally, the paper considers the design and strategic potential that this hybridization presents. How blurring the boundaries between traditionally conceived spatial/functional domains, as well as shortening urban food supply chains may contribute to the physical facilitation of sustainable urban practices around food, and ultimately, sustainable diets. 
How to Cite
Fodor, K. (2021) "The Hybridization of Food Spaces: Changing Spatial Logics in Urban Food Systems and Prospects for Sustainable Diets", The International Journal of Sociology of Agriculture and Food. Paris, France, 27(1), pp. 102–118. doi: 10.48416/ijsaf.v27i1.83.

Abstract 585 | PDF Downloads 429


##plugins.themes.bootstrap3.article.details##
CC BY 4.0 https://creativecommons.org/licenses/by/2.0/
You are free to:
Share — copy and redistribute the material in any medium or format
Adapt — remix, transform, and build upon the material for any purpose, even commercially.
This license is acceptable for Free Cultural Works.
The licensor cannot revoke these freedoms as long as you follow the license terms.
Under the following terms:
Attribution — You must give appropriate credit, provide a link to the license, and indicate if changes were made. You may do so in any reasonable manner, but not in any way that suggests the licensor endorses you or your use.
No additional restrictions — You may not apply legal terms or technological measures that legally restrict others from doing anything the license permits.